"Are You Ready to Discover the Astonishing Secrets of How to Make Massive Profits in Real Estate Investing?"
If So, Keep Reading to Find Out How You Can Have Your Very Own Outrageously Profitable Real Estate Investing Business in No Time at All!
Dear friend,
Did you know that real estate has created more millionaires than any other investment vehicle?
Well, it's true.
Of course, you can't just jump on the real estate investing bandwagon and try to make money on pure instinct or impulse.
IT JUST WON'T WORK!
Before you jump in you need to take some time to learn the fundamentals and sharpen your skills.
I have compiled a concise yet comprehensive, simple ebook entitled, "Real Estate Investing - The Fundamentals," that explains every part of the process you need to go through in order to make massive profits investing in real estate.
Here is just some of what you will learn:
5 questions you MUST ask yourself before you make your first investment – failure to do this could result in a lot of heartache and frustration later on!

How to make your first profitable real estate investment in just 5 easy steps – even if you have absolutely no investing experience whatsoever!

Strategies to maximize your real estate investing profits – you'll be amazed at how easy it is to make money investing in real estate when you follow these simple tips!

How to manage the risk associated with investing in real estate – including the single most important thing you can do to protect yourself from loss!

How to make your property look its very best – without spending a fortune

How to market your property – and ensure you have the greatest pool of potential buyers possible!

How to "buy low and sell high" every time – what you learn here will definitely surprise you!

3 tips to save money on your real estate transactions – you'll be surprised at how fast "saving on the little things" can really add up!

How to find properties that are ideal for "flipping" – follow these tips and you'll be producing HUGE real estate investing profits in no time!

How to finance your real estate deals – including creative strategies that you can use to buy a home even if you have no money, are in debt and have bad credit!

And much, much more, including:
o 5 great places to search for the perfect investment home
o The importance of a home inspection
o How to minimize your risk with insurance
o How to fix-up properties for maximum financial reward
o Whether you should sell the home yourself or use an agent
o What to do if your house is not selling quickly enough
o How to negotiate a "win-win" deal
o What you need to know about real estate laws
o What you need to know about the tax implications of investing in real estate
o Whether its better to buy properties in urban or rural areas
o How to invest in commercial properties
o The pros and cons of renting property
Here's the Bottom Line on This Incredible Resource:
This ebook fundamentally and concisely covers everything you need to know about how to find; assess; buy below market value; renovate; and sell properties for maximum profit in any type of market condition.
Imagine being able to create a six-figure annual income …

Imagine being able to buy 2-3 or more rental properties every year …

Imagine being able to continue to make money in real estate even in a flat market

Imagine being able to accumulate a multi-million dollar portfolio …

Imagine being able to generate positive investment or rental income sooner and quit your boring day job for good …
… Now Stop Imagining & Learn How to Make It All a Wonderful Reality By Getting My "Real Estate Investing - The Fundamentals" eBook!
Right now, for a limited time, you can take advantage of a special promotional offer and receive the "Real Estate Investing-The Fundamentals" ebook for just $4.99 – that's over 60% off the regular price of $7.99.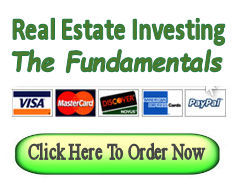 Act now! Buy now! You've Got Absolutely Nothing to Lose!
Sincerely,
Rickie Robinson
P.S. -- This gem will be sold for $7.99. The introductory price of $4.99 is a "Buy it NOW before it's gone" offer... so act fast!